You May Not Recognize Today's Yellow School Bus
So much of what we encounter today is not what it was ten or fifteen years ago. Computers. Cell phones. The internet. Educational initiatives. Radio listening. Grocery shopping. So many things we encounter daily have changed — and enhanced — the world around us. So too is it the same with driving a school bus and how our bus drivers manage their vehicles. Just as the transportation industry continuously improves passenger bus safety, we at First Student also look for ways to improve driver safety and comfort and bus drivability. The First Student school bus isn't what you saw on the road five years ago; it's more advanced, comfortable and reliable.
But what's so different about our modern day school buses that make drivers prefer the drivability of the bus rather than their own cars? It's a mix of innovations and improvements that upgrade the school bus driving experience.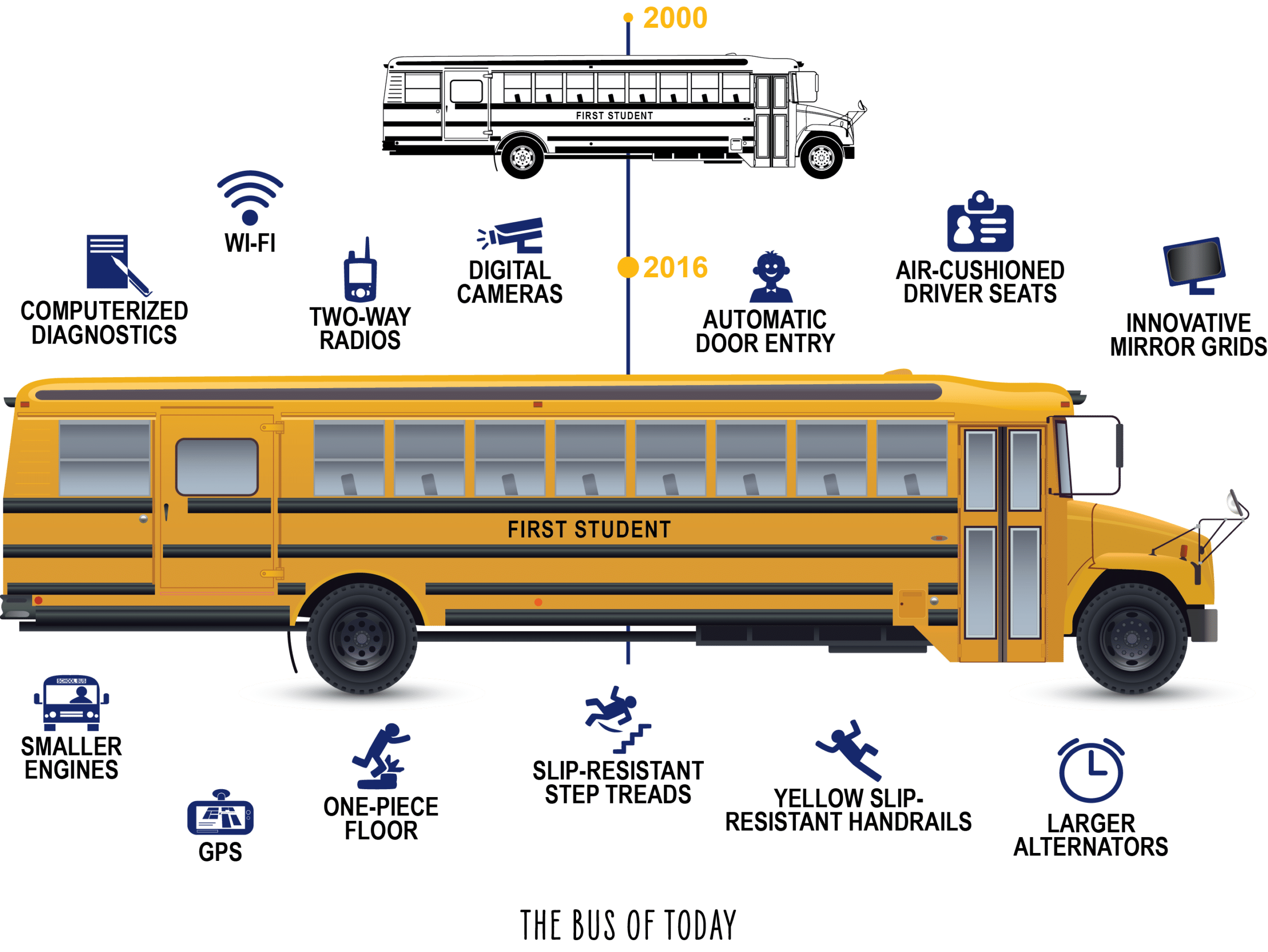 Air-Cushioned Seats: Some First Student school buses feature air-cushioned driver seats. These seats hoisted up by air pressure make the driving position cushioned and comfortable while still providing better lumbar support than older driving seats.
Automatic Door Entry: Most First Student buses feature automatic door entry, with which a driver can push a button to make the doors open and close. While this may seem like a small innovation, just think of the numbers: if a driver has 20 stops on a route each morning, that equates to 40 door swings – an opening and a closing. And that's only the count in the morning route, not to mention a mid-day or afternoon route! Before the automatic door entry system, drivers suffered shoulder and arm injuries and fatigue.
We have air doors now instead of a manual door and an angled nose on the cab makes less of a blind spot for children passing in front of the bus." – Vickie Jones, 38-year industry veteran, driver for Xenia Community Schools (Ohio)
Smaller Engines: Just as computer chips have grown smaller over the years, but pack more punch so do vehicle engines. With newly manufactured buses, a smaller school bus engine means the hood has a lower-profile with a shorter nose allowing the driver to see more of their surrounding environment and making it easier to maneuver the school bus.
Innovative Mirror Grid System: The 7-mirror system enables the driver to easily see the area around the outside of the bus. And what's behind the mirrors matters too. In some First Student buses used in cold climates, we feature an electrical grid behind the mirror glass. Once the grid heats, frozen precipitation does not stick to the mirrors and makes it easier for drivers to see the vehicles and other variables around the bus.
Computerized Diagnostics and Larger Alternators: Computerized diagnostics are a growing tool in helping to prevent bus malfunctions and ease drivers' fears of bus breakdowns. These diagnostics can read the bus and determine needed repairs. But by adding systems, we tax the engine with more electrical requests. That's why First Student added larger alternators to our newer buses, which provide additional power to the corresponding engine systems and can carry a heavier power load preventing dead batteries.
These innovations aren't made for innovations sake; they're made to help the driver be comfortable with their bus so they can provide students with the safest ride to and from school. At First Student, Caring for students today, tomorrow, together.® is our way of life and it drives how we innovate. So if you're seeking a part-time job that is its own reward in a growing industry, visit the First Student Careers website to apply!